GreenBox
Sale price Price €199,00 Regular price Unit price / per
Tax included.
The GreenBox is an innovative Smart Indoor Garden for every home and office.
Grow your own greens without any effort, no matter where you live - works even in low-light and small apartments.
Money Back Guarantee
Your satisfaction is our top-priority.
We understand, that you might feel uncomfortable with buying in advance an innovative product. That's why we give you money back guarantee. Until 30 days after delivery of the product - as well as all the time before - we guarantee full refund of your purchase. No questions asked!
 In the GreenBox you can grow:

-herbs
-salads and other greens
-chillis
-flowers

Everything fresh and organic!

Features:
 

no watering required
just refill the water tank every two to three weeks only

automatic on and off
choose with the app the times that suit you best - it can work as alarm clock!

 

 

 

connected app and notifications
the Box will automatically inform you about data from sensors

 

perfect amount of light and nutrients
grow at any time of the year and in any room, independent of sun

 

 

experiment!
choose from our seed collection or use your own seeds  

flexible light temperature
dim the lights and change their temperature for a cosy atmosphere

 

 

sustainable materials
high quality wooden case (we avoid plastic whenever possible)

organic PlantPlugs
complimentary set of 8 organic PlantPlugs - grow without soil and dirt

 
What's in the  Box:
1x GreenBox (40,5cm x 21cm x 34cm)
1x Power Adapter (2m long)
8x PlantPlugs with Seeds (Mix of different herbs and greens)
Link to our Smart App
The power consumption of the GreenBox is about 15-20W (with full power).
Check out also our newest accessory for the GreenBox, which turns it into a cozy lamp: GreenBox Tent


  Free Shipping in Germany!


Kundenbewertungen
07.14.2021
Esperanza K.

Germany
Ich empfehle dieses Produkt
Lecker Salat aus dem Wohnzimmer
In nur einem Monat frische Kräuter und Salat im Wohnzimmer zu ernten, gepaart mit einem wunderschönen Design, ist einfach nur wundervoll. Wir freuen uns schon auf die W-LAN Unterstützung ;) Vielen Dank noch mal an das Team von Berlin Green für die Unterstützung zur pünktlichen Lieferung zum Geburtstag meines Mannes.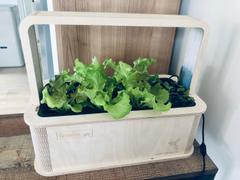 07.14.2021
Philipp S.

Germany
Ich empfehle dieses Produkt
07.12.2021
Bartosz K.

Germany
Ich empfehle dieses Produkt
Mein Lunch-Salat schmeckt jetzt noch besser!
Lieferung war super schnell und das Produkt lies sich sehr einfach in Betrieb nehmen. Mein Salat schmeckt jetzt noch deutlich besser. Die Box sieht sehr schön aus und ist eine gemütliche Lampe für abends. Die Kinder sind ebenfalls begeistert und pflanzen und ernten die Pflanzen. Ein tolle familientaugliches Produkt.
07.12.2021
Joanne W.

Germany
Ich empfehle dieses Produkt
GreenBox
The ordering service was smooth and we are enjoying the product. After 4 weeks we're about the harvest our first crops!
07.06.2021
Daniel M.

Germany
Ich empfehle dieses Produkt
Tolle Bestellung und sehr gute Kommunikation
Große Lob an euch, hatte von euch ein Prototyp bekommen der total super funktioniert. Bin ein begeisterter Kunde und finde das Ergebnis immer wieder toll.